Largest manufacturer of headgear in the world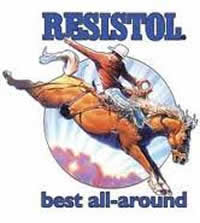 In the early 1920's E.R. Byer, a young millionaire, sold his business in Michigan and travelled South to further his fortunes. He invested in a young hat maker Harry Rolnick, who operated a small hat factory. E.R. Byer was one of Rolnick's customers and was so impressed by his professionalism, flair for fashion and devotion to quality that in 1927 the firm of Byer-Rolnick was founded in Dallas, Texas.
Byer-Rolnick produced men's felt hats in Dress and Western stylings, both were marketed under the newly created brand name 'Resistol Hats', meaning to 'resist all' weather. Distribution was limited to Texas and Oklahoma early on, but innovations like the Self-Conforming band and Kitten Finish for felt gained US national exposure and in 1938 prompted expansion to a larger facility in Garland, Texas, where Resistol hats are manufactured today.
Byer-Rolnick's success continued and the Resistol brand became the biggest name in western hats. In an effort to better control the quality and flow of product, Byer-Rolnick acquired a fur cutting plant and built a rough-body plant in Longview, Texas. These acquisitions made Byer-Rolnick the first and only manufacturer to operate the entire felt hat making process, which includes over 200 processes.
Demand for Resistol hats continued and today 'the small hat factory' is the largest manufacturer of headwear in the world, as a part of Hatco, Inc.
Resistol Hats are famous for…