Once the world's largest hat maker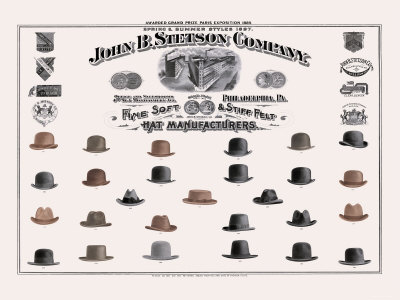 Stetson hats or Stetsons are the brand of hat manufactured by the John B. Stetson Company of St. Joseph, Missouri. The word 'Stetson' is sometimes used as a genericised term for a cowboy hat, which features a high crown and wide brim. However, this is not the only type of hat made by the Stetson company, which also manufactures other styles of brimmed hat.
Stetson eventually became the world's largest hat maker, producing over 3.3 million hats a year in a factory spread over nine acres. Today Stetson remains a family-owned concern. In addition to its hats, Stetson is also well known for its colognes and a range of other products evoking the historic American West.
Stetson University and Stetson University College of Law in Florida were named after John B. Stetson in 1899 for his contributions to the school.