A Christmas favourite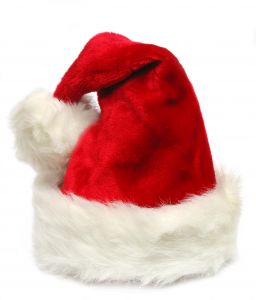 A Santa Hat is a floppy pointed red hat trimmed in white fur with a pom pom or jingle bell, traditionally associated with Christmas.
Santa Claus, Santa or Father Christmas is a legendary, mythological and folkloric character developed from an amalgamation of Dutch Sinterklaas, English Father Christmas and other traditions of Christmas gift-bringers. Santa Claus brings gifts to the homes of the good children during the late evening and overnight hours of Christmas Eve, 24th December.
The figure developed in the 19th century from the Dutch figure of Sinterklaas – a legendary character based on Saint Nicholas, patron saint of children and gift giver.
Coca-Cola advertising played a role in shaping the character we know today. Prior to the 1931, there were many different depictions of Santa Claus around the world. Dutch Illustrator, Haddon Sundblom, was commissioned to paint Santa Claus for Christmas advertisements which established him as the warm and jolly character in red we know today.
Famous Santa Hat wearers