Classic tropical hat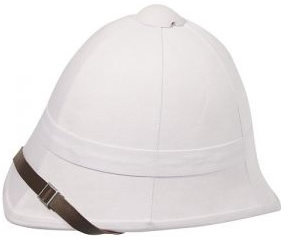 The Pith Helmet, also known as the safari helmet, sun helmet, topee, sola topee, salacot or topi, is a lightweight cloth-covered helmet made of cork or pith, typically pith from the sola, Aeschynomene aspera, an Indian swamp plant, or A. paludosa or a similar plant.
Designed to shade the wearer's head and face from the sun, pith helmets were once often worn by Westerners in the tropics, but have also been used in other contexts.
It was around 1870 that the pith helmet became popular with military personnel in Europe's tropical colonies. The Franco-Prussian War had popularised the German Pickelhaube, which may have influenced the distinctive design of the pith helmet. Such developments may have merged with a traditional design from the Philippines, the salakot. The alternative name salacot appears frequently in Spanish and French sources; it comes from the Tagalog word salacsac.
Originally made of pith with small peaks (bills) at the front and back, the helmet was covered by white cloth, often with a cloth band (or puggaree) around it, and small holes for ventilation. Military versions often had metal insignia on the front and could be decorated with a brass spike or ball-shaped finial. The chinstrap could be in leather or brass chain. The base material later became the more durable cork, although still covered with cloth and still referred to as Pith Helmet.
The earliest appearance of sun helmets made of pith occurred in India during the Sikh Wars of the 1840s. Adopted more widely during the Indian Mutiny of 1857-59 they were generally worn by British troops serving in the Ashanti War of 1873, the Zulu War of 1878-79 and subsequent campaigns in India, Burma, Egypt and South Africa.
The French tropical helmet was first used for colonial troops in 1878. The Pith Helmet is mainly associated with the British and the French empires, however, all European colonial powers used versions of it during the late 19th and early 20th centuries. The US Army adopted it during the 1880s for use by soldiers serving in Southwest United States.
European officers commanding locally recruited indigenous troops, as well as civilian officials in African and Asian colonial territories used the pith helmet. Black pith helmets were also part of the uniform of the Victoria Police during the late 19th century.
Other names for the Pith Helmet
Safari Helmet
Sun Helmet
Topee
Sola Topee
Salacot
Topi
Famous Pith Helmet wearers
Michael Caine in Zulu
Winston Churchill
Lord Kitchener
Pith Helmet fancy dress ideas
Safari
Explorer
Red Coat
British Foreign Service