Iconic Australian hat brand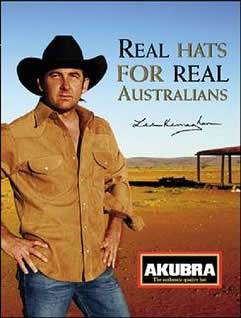 Akubra is an Australian brand of bush hat, whose wide-brimmed styles are a distinctive part of Australian culture, especially in rural areas. The name is derived from an Aboriginal word for head covering.
Akubra's best-known hats are made from rabbit fur felt with wide brims, and the term 'Akubra' is sometimes used to refer to any hat of this kind. Many Akuba hats have drawstrings that add to its appearance, and practically, keep the hat on your head on a windy day.
When it comes to traditional outdoor clothing in Australia, Akubra hats form an important part. Often worn by stockmen, farmers, hunters, graziers and horsemen, their Akubras protect them from the elements, help them fan fires and to water their dogs when in the bush.
Akubra Hats Styles
Heritage Collection
Pre-Creased Akubras
Open Crown Akubras
Lifestyle Collection
Hemp Akubras
Famous Akubra wearers
Prince William
Crocodile Dundee