Classic wide brimmed hat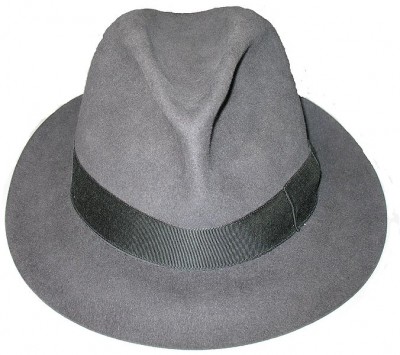 A Fedora is a men's felt hat creased lengthwise down the crown and pinched on the front on both sides. The Fedora is not defined by this creasing, however. Fedoras are also be creased with teardrop crowns, diamond crowns, centre dents, and others. The positioning of pinches can vary.
Fedoras were sold open crown (uncreased) early on, leaving the owner to create his own crease himself. Hat makers by the 1950s started blocking the various crease designs into the hats which is now the standard.
The Fedora has a brim which goes all the way around the crown and can be left raw edge, finished with a sewn overwelt or underwelt, bound with grosgrain ribbon, or finished with a self-felted cavanagh edge.
Traditional fedoras have grosgrain hat bands. Similar to a Fedora is a trilby hat with a narrower brim, and the brim at the back is distinctively more sharply upturned.
The term Fedora was in use as early as 1891 and was originally a women's fashion into the 20th century, the Fedora came into use in about 1919 as a men's middle-class clothing accessory. Its popularity soared, and eventually it eclipsed the similar Homburg by the 1920s.
Fedoras can be found in nearly any colour imaginable, but black, grey, tan, and brown are the most popular.
Famous fedora wearers
Humphrey Bogart
Indiana Jones
Michael Jackson
Johnny Depp
Zara Phillips